Irrigation repair in Alpharetta GA. We service sprinkler systems in all of Atlanta, including Alpharetta. If you need help with your sprinklers, Call Us Now!
Many homeowners have negative experiences with improperly designed sprinkler systems in Alpharetta, malfunctioning parts and poor after-sale service.
That's where Atlanta Sprinkler Repair comes in. We professionally repair sprinkler systems using high-quality parts and provide the best customer service in the irrigation business. Our philosophy is simple: to provide the best customer service and innovative, lasting solutions for your lawn and garden needs. You can rest assured knowing that we fully stand behind all our work. If your system requires any adjustments or you have any questions, we will attend to the situation as soon as possible. In short, we don't just repair irrigation systems – we offer peace of mind.
Why Choose Us for Alpharetta Sprinkler Repair?
• Outstanding Customer Irrigation Service in Alpharetta
From education to system repairs, Atlanta Sprinkler Repair provides prompt and reliable customer service. Unlike some contractors, we return all phone calls within one business day and are able to make most service visits quickly. We will take the time to thoroughly explain the operation of your irrigation system and show you how to program your system controller.
• Guaranteed Satisfaction
All irrigation repairs by Atlanta Sprinkler Repair are covered by a three-year comprehensive warranty, including labor and parts. Many parts are covered by an additional 2 year warranty (total of 5 yrs.). We guarantee that all areas of your lawn will be adequately watered after repairs or upgrades are done.
• Fully Insured
Unlike some irrigation contractors, Atlanta Sprinkler Repair carries 100% liability insurance for your peace of mind.
We encourage you to give us a call or contact us through our online form. We look forward to meeting with you and discussing the benefits irrigation system repairs by Atlanta Sprinkler Repair.
Irrigation Service and Repairs in Alpharetta
We troubleshoot, service, repair and maintain residential and commercial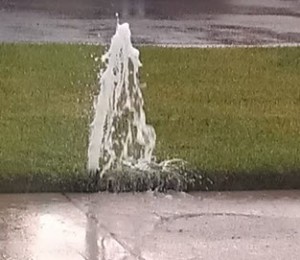 landscape irrigation systems, including drip irrigation. We change, add to, or upgrade your system to meet your current needs.
In spring we turn on your system and give it a 'check-up' in preparation for the warm season. Any deficiencies that we find will be brought to your attention, and approval, before we perform any additional services or repairs that will be an additional expense.
In late fall, we will winterize your system to clear the entire system of water in preparation for winter weather, and any potential for freeze damage.
Our service vehicle is stocked with all the latest testing equipment, pop up spray and rotor heads, irrigation controllers, wire tracking and valve locating devices, and specialty repair parts and materials.
OTHER AREAS OF COVERAGE
Roswell, Brookhaven, Buckhead, Dunwoody, Sandy Springs, Johns Creek, Marietta, Smyrna, Conyers, Decatur, Tucker, Stone Mountain, Norcross, Suwanee, Duluth, Snellville, Lawrenceville, Covington and Vinings

Quick Facts About Alpharetta Georgia
Alpharetta is a city located in the northern part of Fulton County. It is an upper-income suburb of the Greater Atlanta Metropolitan area. Here are some interesting facts about Alpharetta Georgia.
The city originally was deep in the heart of Cherokee country. After the native Americans were forced off their land as a result of the Indian Removal Act settlers moved into the area. The town was originally called Milton; however, the city was chartered under the name Alpharetta on December 11, 1858, and at first consisted of the lands about a half mile from the city courthouse. The city also was the county seat of Milton county up until the Great Depression. Due to financial difficulties, Milton County was absorbed by Fulton County in 1931.
There are a couple of different speculations on the origins of the city's name. Some believe the name derives from a song written in 1844 called the Blue Juniata. That song features a young Indian girl named Alfarata who sings about her warrior as her canoe goes down the Juniata River. Others believe that the name was taken from the Greek words meaning "first town."
Modern day Alfarata is a medium sized city. The population recorded as of the 2010 census was 57,551. 2014 estimates place the population at 63,038. The population is relatively cosmopolitan for the state of Georgia. It is estimated that 22.3% of the people are foreign born, and a language other than English is spoken at home in 27.6% of the households. Its current boundaries encompass 21.4 square miles, the vast majority of which is dry land. For those commuting in the Atlanta area, there are three MARTA routes that stop in the city and four bus routes.
The suburb is quite affluent with a median household income of $86,355 per year. The median value of a house in the city is $311,000, which is nearly double that of the state as a whole. The vast majority of these houses are quite new with 91% built in 1980 or subsequent years. Its population is also well-educated with 62.1% of residents obtaining a college degree, and 95% of people graduate from high school. The city boasts five of the state's top fifteen rated high schools.
The city's government consists of a typical city council structure. There are six city council members and one mayor who oversee the city. These officials serve four-year terms with staggered elections occurring every two years. The city has a variety of attractions for residents' amusement including Wills Park, the Gold Club of Georgia, the Autry Mill Nature Preserve, the Heritage Center, and the Big Creek Gateway.
Alpharetta has received numerous awards from independent publications. Entrepreneur Magazine ranked it as the best city to start a small business. Movoto listed it as the best Atlanta suburb to live in. Forbes has extended it multiple honors naming it as the seventh most friendly city and among the top 25 best places to move. If you are looking for  irrigation repair in Altamonte Springs, click the link.
Return to Atlanta Sprinkler Repair LLC
Monday-Saturday: 7:00am – 7:00pm
Sunday: by appointment