Irrigation repair in Smyrna GA. We service sprinkler systems in all of Atlanta, including Smyrna. If you need help with your sprinklers, Call Us Now!
Many homeowners have negative experiences with improperly designed systems in Smyrna, malfunctioning parts and poor after-sale service.
That's where Atlanta Sprinkler Repair comes in. We professionally repair sprinkler systems using high-quality parts and provide the best customer service in the irrigation business. Our philosophy is simple: to provide the best customer service and innovative, lasting solutions for your lawn and garden needs. You can rest assured knowing that we fully stand behind all our work. If your system requires any adjustments or you have any questions, we will attend to the situation as soon as possible. In short, we don't just repair irrigation systems – we offer peace of mind.
Why Choose Us for Smyrna Sprinkler Repair?
• Outstanding Customer Irrigation Service in Smyrna
From education to system repairs, Atlanta Sprinkler Repair provides prompt and reliable customer service. Unlike some contractors, we return all phone calls within one business day and are able to make most service visits quickly. We will take the time to thoroughly explain the operation of your irrigation system and show you how to program your system controller.
• Guaranteed Satisfaction
All irrigation repairs by Atlanta Sprinkler Repair are covered by a three-year comprehensive warranty, including labor and parts. Many parts are covered by an additional 2 year warranty (total of 5 yrs.). We guarantee that all areas of your lawn will be adequately watered after repairs or upgrades are done.
• Fully Insured
Unlike some irrigation contractors, Atlanta Sprinkler Repair carries 100% liability insurance for your peace of mind.
We encourage you to give us a call or contact us through our online form. We look forward to meeting with you and discussing the benefits irrigation system repairs by Atlanta Sprinkler Repair.
Irrigation Service and Repairs in Smyrna
We troubleshoot, service, repair and maintain residential and commercial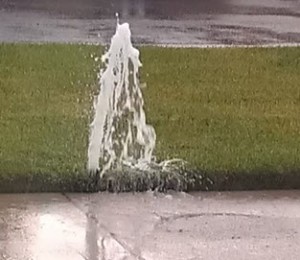 landscape irrigation systems, including drip irrigation. We change, add to, or upgrade your system to meet your current needs.
In spring we turn on your system and give it a 'check-up' in preparation for the warm season. Any deficiencies that we find will be brought to your attention, and approval, before we perform any additional services or repairs that will be an additional expense.
In late fall, we will winterize your system to clear the entire system of water in preparation for winter weather, and any potential for freeze damage.
Our service vehicle is stocked with all the latest testing equipment, pop up spray and rotor heads, irrigation controllers, wire tracking and valve locating devices, and specialty repair parts and materials.
OTHER AREAS OF COVERAGE
Alpharetta, Roswell, Brookhaven, Buckhead, Dunwoody, Sandy Springs, Johns Creek, Marietta, Conyers, Decatur, Tucker, Stone Mountain, Norcross, Suwanee, Duluth, Snellville, Lawrenceville, Covington and Vinings

Great Facts About Smyrna Georgia
Smyrna is located in the inner ring of what's generally considered the "greater" metropolitan area of Atlanta. Despite being a suburb of the main city, Smyrna has its own distinctive culture, history, and personality that makes it as interesting as any town in Georgia. Read on to learn more about Smyrna and it's place among Atlanta's many neighbors!
Smyrna has a population of over 50,000 people and is one of the most densely populated areas in the entire state. You might thing this would prevent even more growth, but you'd be wrong! The population of Smyrna jumped an estimated 10% from 2000 to 2012, meaning it's also one of the fastest growing towns in all of Georgia, as well! The zip codes are: 30800, 30081 and 30082
Smyrna was founded in 1872, and has been a thriving community ever since. Even so, recent efforts have been made to help older sections of town revitalize and provide a quality living and visiting experience for everyone regardless of where they live throughout the town.
Although founded officially in 1872, it's worth knowing Smyrna's history goes back at least another 50 years. Even by the earliest part of the 1830s the area was known as a religious encampment and even went by the name of "Smyrna Encampment."
There's a lot to look at when you visit the town of Smyrna, and it's not hard to see why so many people are fascinated by this suburb. The history alone makes it really stand out as a fantastic sight worth visiting and studying, and yet not all of Smyrna's cultural references are based in the past. There's plenty in the present or the recent history that keeps it interesting!
– Two Civil War battles were fought near Smyrna: The Battle of Smyrna Campground and The Battle of Ruff's Mill. Both were fought on consecutive days in 1864.
– Smyrna is known as "The Jonquil City" because of the thousands of jonquil flowers that bloom throughout the city in spring.
– Smyrna is located in Cobb County, Georgia, which WWE wrestling fans might recognize as being part of the theme song from the old WWF, WCW, and WWE wrestler "The Big Boss Man."
– The city has a unique city-owned public library that has become a favorite spot of locals and visitors alike.
– A 2014 study on best Georgia cities for young adults had Smyrna rated #4 in the state.
– Howard's Restaurant was the setting for the restaurant scene in the movie "Joyful Noise" and was filmed there in 2011.
– Lorena Price Pruitt was the first female mayor of Smyrna, and was elected in 1946.
– Village Green and Market Village are two wards of Smyrna that are popular not just with residents but also with visitors from the greater Atlanta area.
As you can see from these facts, Smyrna is a thriving town that has plenty of history, plenty to offer, and is poised to continue to be an important place in the near future – and not only because of its close proximity to Atlanta! For irrigation repair Wekiva Springs click the link.
Monday-Saturday: 7:00am – 7:00pm
Sunday: by appointment