Irrigation repair in Roswell GA. We service sprinkler systems in all of Atlanta, including Roswell. If you need help with your sprinklers, Call Us Now!
Many homeowners have negative experiences with improperly designed systems in Roswell, malfunctioning parts and poor after-sale service.
That's where Atlanta Sprinkler Repair comes in. We professionally repair sprinkler systems using high-quality parts and provide the best customer service in the irrigation business. Our philosophy is simple: to provide the best customer service and innovative, lasting solutions for your lawn and garden needs. You can rest assured knowing that we fully stand behind all our work. If your system requires any adjustments or you have any questions, we will attend to the situation as soon as possible. In short, we don't just repair irrigation systems – we offer peace of mind.
Why Choose Us for Roswell Sprinkler Repair?
• Outstanding Customer Irrigation Service in Roswell
From education to system repairs, Atlanta Sprinkler Repair provides prompt and reliable customer service. Unlike some contractors, we return all phone calls within one business day and are able to make most service visits quickly. We will take the time to thoroughly explain the operation of your irrigation system and show you how to program your system controller.
• Guaranteed Satisfaction
All irrigation repairs by Atlanta Sprinkler Repair are covered by a three-year comprehensive warranty, including labor and parts. Many parts are covered by an additional 2 year warranty (total of 5 yrs.). We guarantee that all areas of your lawn will be adequately watered after repairs or upgrades are done.
• Fully Insured
Unlike some irrigation contractors, Atlanta Sprinkler Repair carries 100% liability insurance for your peace of mind.
We encourage you to give us a call or contact us through our online form. We look forward to meeting with you and discussing the benefits irrigation system repairs by Atlanta Sprinkler Repair.
Irrigation Service and Repairs in Roswell
We troubleshoot, service, repair and maintain residential and commercial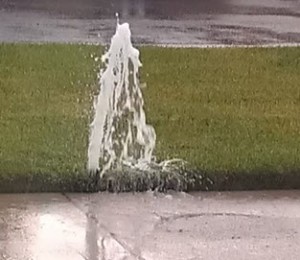 landscape irrigation systems, including drip irrigation. We change, add to, or upgrade your system to meet your current needs.
In spring we turn on your system and give it a 'check-up' in preparation for the warm season. Any deficiencies that we find will be brought to your attention, and approval, before we perform any additional services or repairs that will be an additional expense.
In late fall, we will winterize your system to clear the entire system of water in preparation for winter weather, and any potential for freeze damage.
Our service vehicle is stocked with all the latest testing equipment, pop up spray and rotor heads, irrigation controllers, wire tracking and valve locating devices, and specialty repair parts and materials.
OTHER AREAS OF COVERAGE
Alpharetta, Brookhaven, Buckhead, Dunwoody, Sandy Springs, Johns Creek, Marietta, Smyrna, Conyers, Decatur, Tucker, Stone Mountain, Norcross, Suwanee, Duluth, Snellville, Lawrenceville, Covington and Vinings

An Historic Visit To Roswell
There is a town in Fulton County that is called Roswell and it has been rated as one of the best places to raise your family. In fact, a famous media source stated that this town was one of the best places to live in America. This peaceful town was ranked 18th as one of the safest town to live in when considering the crime rankings. Therefore, this town has gathered a lot of interest as a place to live, work, and raise your family.
The zip codes are: 30075, 30076, 30077
The town of Roswell was named after the first settler Roswell King. This beautiful town has numerous historic homes that date back all the way to the early 1800s. Roswell King settled in the area in the middle of the 1830s and established a cotton mill. He constructed all of the homes, mills, town buildings, and infrastructures by using slave labor. The cotton mill soon became one of the biggest in northern Georgia.
It did not take too long for other settlers to arrive and set up their own plantations. This brought many new slaves into the area and the cotton mills were the primary force behind a thriving economy. In 1854, Roswell was chartered and later during the Civil War the Union Army under General Grant took control of the town.
The Union army proceeded to burn down all of the cotton mills but they left the homes intact. After the war was finished a relative of Roswell King, Barrington King, built new cotton mills. Many of the slaves that were now free had a choice to remain in the Roswell area and work on the plantations for wages or to move and look for jobs in other cities.
One of the architectural gems that you will discover if you take a trip through the Roswell area is the Archibald Smith Plantation. This plantation home includes many interesting artifacts and actual slave quarters. You'll find this architectural wonder registered in the National Register of Historic Places.
Another special treasure is the Bulloch Hall which offers a Greek revival type of architecture. This home was owned by Martha Bulloch who is the mother of President Theodore Roosevelt. Barrington Hall also provides another excellent Greek revival piece of architecture. It too is included in the National Register of Historic Places.
The center of Roswell features many fine restaurants, shops, and art galleries. One of the first homes built in Roswell, Primrose Cottage, hosts a variety of yearly events. Some of the more well-known events that occur in and around Roswell are the Roswell Memorial Day Festival. This festival is one of the major festivals in the state of Georgia.
There is also the Riverside Sound Concert Series, the Roswell Root Festival which celebrates African-American culture and history, the Roswell Youth Day Festival and Parade which is an extremely popular event, the Duck Race to Keep Roswell Beautiful, the Roswell Bicycle Race and the Historic Roswell Kids Bike Safety Rodeo. These are just some of the many reasons why a visit to Roswell is a visit well worth taking.

Monday-Saturday: 7:00am – 7:00pm
Sunday: by appointment