Irrigation repair in Duluth GA. We service sprinkler systems in all of Atlanta, including Duluth. If you need help with your sprinklers, Call Us Now!
Many homeowners have negative experiences with improperly designed systems in Duluth, malfunctioning parts and poor after-sale service.
That's where Atlanta Sprinkler Repair comes in. We professionally repair sprinkler systems using high-quality parts and provide the best customer service in the irrigation business. Our philosophy is simple: to provide the best customer service and innovative, lasting solutions for your lawn and garden needs. You can rest assured knowing that we fully stand behind all our work. If your system requires any adjustments or you have any questions, we will attend to the situation as soon as possible. In short, we don't just repair irrigation systems – we offer peace of mind.
Why Choose Us for Duluth Sprinkler Repair?
• Outstanding Customer Irrigation Service in Duluth
From education to system repairs, Atlanta Sprinkler Repair provides prompt and reliable customer service. Unlike some contractors, we return all phone calls within one business day and are able to make most service visits quickly. We will take the time to thoroughly explain the operation of your irrigation system and show you how to program your system controller.
• Guaranteed Satisfaction
All irrigation repairs by Atlanta Sprinkler Repair are covered by a three-year comprehensive warranty, including labor and parts. Many parts are covered by an additional 2 year warranty (total of 5 yrs.). We guarantee that all areas of your lawn will be adequately watered after repairs or upgrades are done.
• Fully Insured
Unlike some irrigation contractors, Atlanta Sprinkler Repair carries 100% liability insurance for your peace of mind.
We encourage you to give us a call or contact us through our online form. We look forward to meeting with you and discussing the benefits irrigation system repairs by Atlanta Sprinkler Repair.
Irrigation Service and Repairs in Duluth
We troubleshoot, service, repair and maintain residential and commercial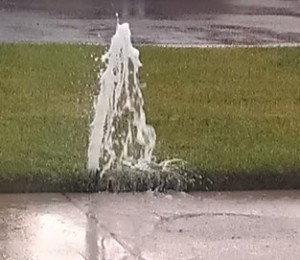 landscape irrigation systems, including drip irrigation. We change, add to, or upgrade your system to meet your current needs.
In spring we turn on your system and give it a 'check-up' in preparation for the warm season. Any deficiencies that we find will be brought to your attention, and approval, before we perform any additional services or repairs that will be an additional expense.
In late fall, we will winterize your system to clear the entire system of water in preparation for winter weather, and any potential for freeze damage.
Our service vehicle is stocked with all the latest testing equipment, pop up spray and rotor heads, irrigation controllers, wire tracking and valve locating devices, and specialty repair parts and materials.
OTHER AREAS OF COVERAGE
Alpharetta, Roswell, Brookhaven, Buckhead, Dunwoody, Sandy Springs, Johns Creek, Marietta, Smyrna, Conyers, Decatur, Tucker, Stone Mountain, Norcross, Suwanee, Snellville, Lawrenceville, Covington and Vinings

In the Gwinnett County in the state of Georgia there is a city called Duluth. Duluth is a suburb of Atlanta and has a population of around 26,000 people according to the census taken in 2010. This affluent city is near the Interstate 85. Some of the more popular attractions in the Duluth area are the Gwinnett Civic and Cultural Center, Gwinnett Place Mall, Hudgens Center for the Arts, and the popular Red Clay Theater. The zip codes are: 30095, 30099, 30096, 30097, 30098
All of these attractions plus many others allow the citizens of Duluth to enjoy a variety of entertainments from art to sports. Some of the more notable nearby attractions include Lake Lanier and Stone Mountain. These two beautiful areas allow residents to explore nature at its finest. Duluth has a Forbes magazine ranking of 26th as one of the best places to move to in America. BusinessWeek magazine also mention that it was one of the more affordable suburbs in the state of Georgia.
The local government for the City of Duluth consists of five city council members and the mayor. This group of individuals appoints the positions for city clerk and city administrator. There are elections every two years on the odd numbered years. The council members and mayor are elected for staggered four-year terms.
Duluth has a very rich history as it was originally included as a part of the territory belonging to the Cherokee Indians. This community stretches back into the early 19th century. During that time it was occupied by tribespeople and was mainly a natural forested land. During the war of 1812 there was an old Indian trail called the Old Peachtree Road. Settlers used this trail to connect between Atlanta and Fort Peachtree.
In 1818, there was the creation of Gwinnett County. At this time there was also an increase in white settlement. Evan Howell was one of the forefathers of the region. He was a cotton merchant and will be remembered for his construction of a road that connected the Old Peachtree Road with his cotton gin at Chattahoochee River. This created what became known as the Howell's Cross Roads.
Years later the Howell's Cross Roads name was changed to simply Howell's Crossing. Atlanta's Mayor Evan P. Howell was the grandson of Evan Howell. Evan Howell was also the great-grandfather of Clark Howell who was an Atlanta Constitution publisher. There are many descendants of Evan Howell that continue to live in the Atlanta area but only the Howell Ferry Road in Duluth bears his name.
One of the major boosts to the Duluth economy in its early history was the railroad. During the 1970s and 80s Duluth also grew rapidly. During this time a major revitalization was undertaken in the downtown area. This revitalization included the development and construction of the Gwinnett Convention Center and the Gwinnett Arena.
If you ever have the opportunity to visit this wonderful area you will be impressed by its history and its modernization. Duluth is an excellent place to retire or to raise a family. For
irrigation repair in Forest City FL
click the link.
Monday-Saturday: 7:00am – 7:00pm
Sunday: by appointment