Irrigation repair in Tucker GA. We service sprinkler systems in all of Atlanta, including Tucker. If you need help with your sprinklers, Call Us Now!
Many homeowners have negative experiences with improperly designed systems in Tucker, malfunctioning parts and poor after-sale service.
That's where Atlanta Sprinkler Repair comes in. We professionally repair sprinkler systems using high-quality parts and provide the best customer service in the irrigation business. Our philosophy is simple: to provide the best customer service and innovative, lasting solutions for your lawn and garden needs. You can rest assured knowing that we fully stand behind all our work. If your system requires any adjustments or you have any questions, we will attend to the situation as soon as possible. In short, we don't just repair irrigation systems – we offer peace of mind.
Why Choose Us for Tucker Sprinkler Repair?
• Outstanding Customer Irrigation Service in Tucker
From education to system repairs, Atlanta Sprinkler Repair provides prompt and reliable customer service. Unlike some contractors, we return all phone calls within one business day and are able to make most service visits quickly. We will take the time to thoroughly explain the operation of your irrigation system and show you how to program your system controller.
• Guaranteed Satisfaction
All irrigation repairs by Atlanta Sprinkler Repair are covered by a three-year comprehensive warranty, including labor and parts. Many parts are covered by an additional 2 year warranty (total of 5 yrs.). We guarantee that all areas of your lawn will be adequately watered after repairs or upgrades are done.
• Fully Insured
Unlike some irrigation contractors, Atlanta Sprinkler Repair carries 100% liability insurance for your peace of mind.
We encourage you to give us a call or contact us through our online form. We look forward to meeting with you and discussing the benefits irrigation system repairs by Atlanta Sprinkler Repair.
Irrigation Service and Repairs in Tucker
We troubleshoot, service, repair and maintain residential and commercial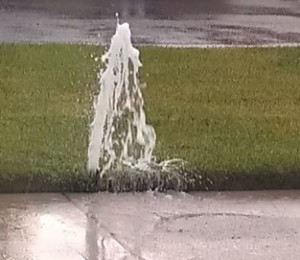 landscape irrigation systems, including drip irrigation. We change, add to, or upgrade your system to meet your current needs.
In spring we turn on your system and give it a 'check-up' in preparation for the warm season. Any deficiencies that we find will be brought to your attention, and approval, before we perform any additional services or repairs that will be an additional expense.
In late fall, we will winterize your system to clear the entire system of water in preparation for winter weather, and any potential for freeze damage.
Our service vehicle is stocked with all the latest testing equipment, pop up spray and rotor heads, irrigation controllers, wire tracking and valve locating devices, and specialty repair parts and materials.
OTHER AREAS OF COVERAGE
Alpharetta, Roswell, Brookhaven, Buckhead, Dunwoody, Sandy Springs, Johns Creek, Marietta, Smyrna, Conyers, Decatur, Stone Mountain, Norcross, Suwanee, Duluth, Snellville, Lawrenceville, Covington and Vinings

Facts About Tucker Georgia
Tucker Georgia is an unincorporated region on the outskirts of Atlanta, approximately 15 miles northwest of the city. The area encompasses 12.1 square miles of space and is traversed by the Eastern Continental Divide. It stands at an elevation of 1,122 feet above sea level. One of the interesting facts about Tucker Georgia is that it sits in two different counties. The majority of it lies in DeKalb County with portions overlapping neighboring Gwinnett County. The zip codes are 30084 and 30085
The area was originally settled in the 1820s as part of Militia District 572. Delegates from the DeKalb County would vote against seceding from the Union; however, residents would follow Georgia into the confederacy. The area was attacked and razed in 1864. When the Seaboard Air Line Railway was being built from Monroe, North Carolina to Atlanta, a stop was made in the area that is now Tucker. As stops were often named for railway executives, many believe that the area ended up being named for a director of the railroad Rufus S. Tucker. Others believe that the area was named for a prominent local family. The city did not grow substantially until after World War II as new employers such as the Centers for Disease Control, General Motors, and Kraft Foods opened facilities nearby and the modern highway system in the area was developed.
The most recent census data has the population of Tucker as 27,581 persons. The population has declined slightly over the past five years. It is expected that the population will grow by a minuscule 0.33% over the next five years. 54.9% of the population is white, 20.2% is African-American, 10.9% is Asian, and 10.3% is Hispanic. The median age for residents is 39.2 years. Despite the unincorporated status of the city, the area ranks in the top quartile for population density in the state of Georgia.
The estimated median household income is $59,765 annually. The price of the median home or condo in Tucker is $209,265, well above the state average of $141,600. The average rent in the area is $939 per month. The cost of living is about 5% below the national average.
As an unincorporated city, there is no formal government of Tucker. As such all formal government matters at the local level are handled by county officials. There is a Tucker 2015 Volunteer council that is comprised of citizens from around the area. At the current moment, there is an effort to formally incorporate Tucker into its own municipality. The community has raised over $30,000 to support a feasibility study in pursuit of the incorporation. According to that study, the city would likely be able to generate $16.6 million in revenue from taxes and fees. Annual expenses for running the new municipality are estimated at $13.3 million. The state legislature and governor must approve the application for a city charter. Once approved, the citizens of the area would need to vote in a referendum to affirm they would like to be part of the new municipality.

Monday-Saturday: 7:00am – 7:00pm
Sunday: by appointment