Irrigation repair in Covington GA. We service sprinkler systems in all of Atlanta, including Covington. If you need help with your sprinklers. Call Us Now!
Many homeowners have negative experiences with improperly designed systems in Covington, malfunctioning parts and poor after-sale service.
That's where Atlanta Sprinkler Repair comes in. We professionally repair sprinkler systems using high-quality parts and provide the best customer service in the irrigation business. Our philosophy is simple: to provide the best customer service and innovative, lasting solutions for your lawn and garden needs. You can rest assured knowing that we fully stand behind all our work. If your system requires any adjustments or you have any questions, we will attend to the situation as soon as possible. In short, we don't just repair irrigation systems – we offer peace of mind.
Why Choose Us for Covington Sprinkler Repair?
• Outstanding Customer Irrigation Service in Covington
From education to system repairs, Atlanta Sprinkler Repair provides prompt and reliable customer service. Unlike some contractors, we return all phone calls within one business day and are able to make most service visits quickly. We will take the time to thoroughly explain the operation of your irrigation system and show you how to program your system controller.
• Guaranteed Satisfaction
All irrigation repairs by Atlanta Sprinkler Repair are covered by a three-year comprehensive warranty, including labor and parts. Many parts are covered by an additional 2 year warranty (total of 5 yrs.). We guarantee that all areas of your lawn will be adequately watered after repairs or upgrades are done.
• Fully Insured
Unlike some irrigation contractors, Atlanta Sprinkler Repair carries 100% liability insurance for your peace of mind.
We encourage you to give us a call or contact us through our online form. We look forward to meeting with you and discussing the benefits irrigation system repairs by Atlanta Sprinkler Repair.
Irrigation Service and Repairs in Covington
We troubleshoot, service, repair and maintain residential and commercial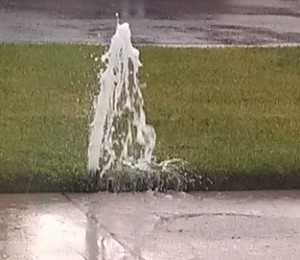 landscape irrigation systems, including drip irrigation. We change, add to, or upgrade your system to meet your current needs.
In spring we turn on your system and give it a 'check-up' in preparation for the warm season. Any deficiencies that we find will be brought to your attention, and approval, before we perform any additional services or repairs that will be an additional expense.
In late fall, we will winterize your system to clear the entire system of water in preparation for winter weather, and any potential for freeze damage.
Our service vehicle is stocked with all the latest testing equipment, pop up spray and rotor heads, irrigation controllers, wire tracking and valve locating devices, and specialty repair parts and materials.
OTHER AREAS OF COVERAGE
Alpharetta, Roswell, Brookhaven, Buckhead, Dunwoody, Sandy Springs, Johns Creek, Marietta, Smyrna, Conyers, Decatur, Tucker, Stone Mountain, Norcross, Suwanee, Duluth, Snellville, Lawrenceville, and Vinings

Facts About Covington
Covington is located 32-miles east of Atlanta in Georgia. It is the county seat of Newton County, Georgia. The city offers easy access to the nearby cities and town within the Atlanta metropolitan area. Covington was earlier a part of Creek Indian Nation. The area was incorporated on December 1, 1822. The city was named after the famous General Leonard Covington. The first railroad came to the city in the year of 1845.
The city comprises of the Historic District as well as the North Historic District. Both these districts are listed on the National Register of Historic Places. It contains the downtown square and Floyd Street as its hub. The side consists of Odum Street and North Emory Street as the hub. Changes made to properties in any of these districts require special permission from the relevant authorities since both are categorized as historic districts.
The U.S. Census Bureau reveals that the city consists of a total area of 13.9 square miles. 13.8 square miles of this area is land while 0.1 square mile is water. Covington has a population of nearly 13,500 people as per the census of 2012. There are 4,261 households in the city. Approximately 2,906 families reside in the city. The population density is recorded as 839.2 people per square mile. There are 4,542 housing units in the city. 51.5% of the population in the city are Whites while 45.5% are African American. 0.18% are considered Native American while the rest consists of Asians and other races.
31% of the families in the town had children below 18-years of age. 40% were married couples living together. 23% were females with no husband present. 31% were non-families. The median income in the city is $32,000. Males has a median income of $28,000 while females had an income of $23,000. The per capita income for the city was around $15,500. The county consists of 14-elementary schools, 5-middle schools, 3-high schools, a charter school, and an elementary theme school. The district has over 20,000 students and 850 full-time teachers.
Covington has so many nearby attractions such as the Georgia International Horse Park, Zoo Atlants Play-Space, Panola Mountain State Park, Yellow River Game Ranch, Black Shoals Park & Lake, and the Gwinnett History Museum. When you are in Covington, you can spend your leisure time at the Newton County Library. There are many other interesting places to visit such as the Floyd Street Historic District, Baker Field Park, Springs Park, and the Newton County Fairgrounds. There are also numerous shopping centers in the area such as Newton Plaza, Corners, Martins Crossing, Covington Crossings, and the Covington Plaza shopping center. Flights to Covington are available from the Atlanta International Airport. All in all, Covington is one of the best tourist attractions in Georgia, United States. For irrigation repair in Deltona, click the link.

Monday-Saturday: 7:00am – 7:00pm
Sunday: by appointment