Irrigation repair in Conyers GA. We service sprinkler systems in all of Atlanta, including Conyers. If you need help with your sprinklers, Call Us Now!
Many homeowners have negative experiences with improperly designed systems in Conyers, malfunctioning parts and poor after-sale service.
That's where Atlanta Sprinkler Repair comes in. We professionally repair sprinkler systems using high-quality parts and provide the best customer service in the irrigation business. Our philosophy is simple: to provide the best customer service and innovative, lasting solutions for your lawn and garden needs. You can rest assured knowing that we fully stand behind all our work. If your system requires any adjustments or you have any questions, we will attend to the situation as soon as possible. In short, we don't just repair irrigation systems – we offer peace of mind.
Why Choose Us for Conyers Sprinkler Repair?
• Outstanding Customer Irrigation Service in Conyers
From education to system repairs, Atlanta Sprinkler Repair provides prompt and reliable customer service. Unlike some contractors, we return all phone calls within one business day and are able to make most service visits quickly. We will take the time to thoroughly explain the operation of your irrigation system and show you how to program your system controller.
• Guaranteed Satisfaction
All irrigation repairs by Atlanta Sprinkler Repair are covered by a three-year comprehensive warranty, including labor and parts. Many parts are covered by an additional 2 year warranty (total of 5 yrs.). We guarantee that all areas of your lawn will be adequately watered after repairs or upgrades are done.
• Fully Insured
Unlike some irrigation contractors, Atlanta Sprinkler Repair carries 100% liability insurance for your peace of mind.
We encourage you to give us a call or contact us through our online form. We look forward to meeting with you and discussing the benefits irrigation system repairs by Atlanta Sprinkler Repair.
Irrigation Service and Repairs in Conyers
We troubleshoot, service, repair and maintain residential and commercial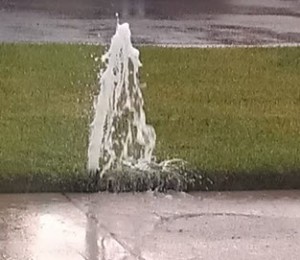 landscape irrigation systems, including drip irrigation. We change, add to, or upgrade your system to meet your current needs.
In spring we turn on your system and give it a 'check-up' in preparation for the warm season. Any deficiencies that we find will be brought to your attention, and approval, before we perform any additional services or repairs that will be an additional expense.
In late fall, we will winterize your system to clear the entire system of water in preparation for winter weather, and any potential for freeze damage.
Our service vehicle is stocked with all the latest testing equipment, pop up spray and rotor heads, irrigation controllers, wire tracking and valve locating devices, and specialty repair parts and materials.
OTHER AREAS OF COVERAGE
Alpharetta, Roswell, Brookhaven, Buckhead, Dunwoody, Sandy Springs, Johns Creek, Marietta, Smyrna, Decatur, Tucker, Stone Mountain, Norcross, Suwanee, Duluth, Snellville, Lawrenceville, Covington and Vinings

About Conyers
Conyers is the only city Rockdale County, Georgia, United States. It is located 24 miles east of Atlanta city. The city is estimated to have a population of about 12,000 people. The 18 to 24 age group constitutes a third of the population, the largest age group in the city. Blacks make up 58% of the population, whites make up 25%, Hispanic or latino accounts for 13.2% of the population. It is the county seat of the Rockdale County. There was a separate town known as Milstead, but it has become part of Conyers. The zip codes are 30012, 30013, 30094
Before European settled in this area, it was occupied by Native Americans. They shared a border was referred to as the "Great Indian Road" but it was later changed to "Hightower Trail". The trail was used mainly by white settlers during the American Revolution. The area known as Rockdale was open for settlements between 1816 and 1821. The first known settler to occupy what is known today as Conyers was a blacksmith known as John Holcomb. He first settled where the current Courthouse is located. This is in the middle of the city on Main Street.
There was a lot of pressure to have the railroad crossing. Initially, there was a plan to have a railroad that would run From Augusta, through the neighboring Covington to today's Atlanta. John Holcomb was against the plan of building the railroad and refused to sell his land for the construction. He even threatened that he would shoot anyone who stepped on his property and was from the railroad.
After persuasion from Dr. W. D. Conyers, a banker from Covington, John Holcomb accepted $700 for the land. Conyers later sold the land to Georgia Railroad. The current city started as a watering post along the railroad line and named after the banker. The Railroad was in full operation by 1845 and ten years later, there were 400 people living around the watering posy and Conyers was then incorporated. Conyers has been almost destroyed by fire many times.
In the year 1870, the surrounding area was incorporated into Rockdale County and it became a county seat. Over the next decade, the town started to become a wild one with five brothels, twelve saloons. The other side that had a better reputation boast of Conyers College, 40 stores, a carriage manufacturer, a hotel, and a number of good schools.
The town was known for "White Road", where there was a resident, Nancy Fowler who had made claims of seeing apparitions of the Virgin Mary. This made the city play host to pilgrims in the 80s and 90s. In 1996, they hosted mountain biking and equestrian events for 1996 Olympic Games which was held in Atlanta, Georgia. This led to the construction of Georgia International Horse Park.
The city has a number of good schools and high quality of social amenities. Thre have bee a number of controversies that have rocked the city in the past. Including the 15 year old shooter. For irrigation repair in Debary, click the link.
Return to Atlanta Sprinkler Repair LLC
Monday-Saturday: 7:00am – 7:00pm
Sunday: by appointment