Irrigation repair in Lawrenceville GA. We service sprinkler systems in all of Atlanta, including Lawrenceville. If you need help with your sprinklers. Call Us Now!
Many homeowners have negative experiences with improperly designed systems in Lawrenceville, malfunctioning parts and poor after-sale service.
That's where Atlanta Sprinkler Repair comes in. We professionally repair sprinkler systems using high-quality parts and provide the best customer service in the irrigation business. Our philosophy is simple: to provide the best customer service and innovative, lasting solutions for your lawn and garden needs. You can rest assured knowing that we fully stand behind all our work. If your system requires any adjustments or you have any questions, we will attend to the situation as soon as possible. In short, we don't just repair irrigation systems – we offer peace of mind.
Why Choose Us for Lawrenceville Sprinkler Repair?
• Outstanding Customer Irrigation Service in Lawrenceville
From education to system repairs, Atlanta Sprinkler Repair provides prompt and reliable customer service. Unlike some contractors, we return all phone calls within one business day and are able to make most service visits quickly. We will take the time to thoroughly explain the operation of your irrigation system and show you how to program your system controller.
• Guaranteed Satisfaction
All irrigation repairs by Atlanta Sprinkler Repair are covered by a three-year comprehensive warranty, including labor and parts. Many parts are covered by an additional 2 year warranty (total of 5 yrs.). We guarantee that all areas of your lawn will be adequately watered after repairs or upgrades are done.
• Fully Insured
Unlike some irrigation contractors, Atlanta Sprinkler Repair carries 100% liability insurance for your peace of mind.
We encourage you to give us a call or contact us through our online form. We look forward to meeting with you and discussing the benefits irrigation system repairs by Atlanta Sprinkler Repair.
Irrigation Service and Repairs in Lawrenceville
We troubleshoot, service, repair and maintain residential and commercial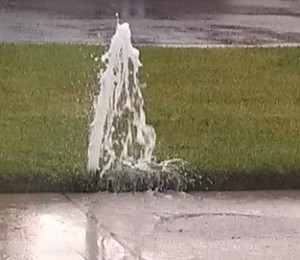 landscape irrigation systems, including drip irrigation. We change, add to, or upgrade your system to meet your current needs.
In spring we turn on your system and give it a 'check-up' in preparation for the warm season. Any deficiencies that we find will be brought to your attention, and approval, before we perform any additional services or repairs that will be an additional expense.
In late fall, we will winterize your system to clear the entire system of water in preparation for winter weather, and any potential for freeze damage.
Our service vehicle is stocked with all the latest testing equipment, pop up spray and rotor heads, irrigation controllers, wire tracking and valve locating devices, and specialty repair parts and materials.
OTHER AREAS OF COVERAGE
Alpharetta, Roswell, Brookhaven, Buckhead, Dunwoody, Sandy Springs, Johns Creek, Marietta, Smyrna, Conyers, Decatur, Tucker, Stone Mountain, Norcross, Suwanee, Duluth, Snellville, Covington and Vinings

Lawrenceville Georgia Facts
Located just 30 miles northwest of Atlanta, this suburb has six zip codes and a population in excess of 28,500 people. In the Atlanta area, it is the second oldest city, having first been incorporated in 1821. The name of the city was selected to honor a naval commander who distinguished himself during the War of 1812, Captain James Lawrence.
A former resident of the city went on to capture the hearts and souls of people all around the world as Oliver Hardy, one-half of the comedy team Laurel and Hardy. He spent just a short time in the city as a child, since his family often moved around the state.
The city earned notoriety during one of Larry Flynt's trials for obscenity during the late 1970's. It was during this trial that both Flynt and his attorney were shot. Flynt was confined to a wheelchair for the remainder of his life after the injury. No one was ever charged in the case.
The average price of a home in Lawrenceville is $120,000, which is substantially lower than the median price of a home in the State of Georgia. In addition, the median income is also lower and almost a quarter of the population lives below the poverty line. The city is racially diverse. The zip codes are: 30042, 30046, 30049
There are 9,572 businesses located in Lawrenceville and 26.3% of them are owned by African Americans. The city is 26 square miles and has a population density of 2,131 people per square mile. The rate of violent crime is relatively low.
There are many interesting places to visit in the city including Stone Mountain Park, Zoo Atlanta Playspace, Vines Botanical Gardens, the Southeastern Railway Museum, the Collins Hill Aquatic Center, and the Gwinnett History Museum. Many residents enjoy visiting the Lawrenceville City Park and the Rhodes Jordan Park.
If you like ghosts, you can schedule a guided ghost tour at the local Aurora Theater. Historical buildings in the area include the Gwinnet Historic Courthouse and the Lawrenceville Female Seminary. Opportunities for shopping are abundant in the area as well.
Facilities for residents who wish to seek higher education are readily available in the area. Georgia Perimeter College, Emory University, Gainsville College, and the Gwinnett Technical College all have facilities in Lawrenceville. People who wish to fly in or out of the area can do so at the nearby Dobbins Air Reserve Base.
Several major roads run through the city, making it readily accessible. Travel to homes in the area is done on the Ronald Reagan Freeway, Georgia 316, and US 78, often called the Stone Mountain Freeway. Interstate 85 is nearby and provides a direct route to downtown Atlanta.
Lawrenceville, Georgia is an interesting suburb of Atlanta. With many local businesses, it is a vibrant place to live and excels on many fronts. According to residents, it has a high quality of life and an overall pleasant atmosphere. The community is full of character with so much history and parents enjoy the fact that it is a great place to raise a family. For irrigation repair Longwood FL click the link.

Monday-Saturday: 7:00am – 7:00pm
Sunday: by appointment