Irrigation repair in Suwanee GA. We service sprinkler systems in all of Atlanta, including Suwanee. If you need help with your sprinklers, Call Us Now!
Many homeowners have negative experiences with improperly designed sprinkler systems in Suwanee, malfunctioning parts and poor after-sale service.
That's where Atlanta Sprinkler Repair comes in. We professionally repair sprinkler systems using high-quality parts and provide the best customer service in the irrigation business. Our philosophy is simple: to provide the best customer service and innovative, lasting solutions for your lawn and garden needs. You can rest assured knowing that we fully stand behind all our work. If your system requires any adjustments or you have any questions, we will attend to the situation as soon as possible. In short, we don't just repair irrigation systems – we offer peace of mind.
Why Choose Us for Suwanee Sprinkler Repair?
• Outstanding Customer Irrigation Service in Suwanee
From education to system repairs, Atlanta Sprinkler Repair provides prompt and reliable customer service. Unlike some contractors, we return all phone calls within one business day and are able to make most service visits quickly. We will take the time to thoroughly explain the operation of your irrigation system and show you how to program your system controller.
• Guaranteed Satisfaction
All irrigation repairs by Atlanta Sprinkler Repair are covered by a three-year comprehensive warranty, including labor and parts. Many parts are covered by an additional 2 year warranty (total of 5 yrs.). We guarantee that all areas of your lawn will be adequately watered after repairs or upgrades are done.
• Fully Insured
Unlike some irrigation contractors, Atlanta Sprinkler Repair carries 100% liability insurance for your peace of mind.
We encourage you to give us a call or contact us through our online form. We look forward to meeting with you and discussing the benefits irrigation system repairs by Atlanta Sprinkler Repair.
Irrigation Service and Repairs in Suwanee
We troubleshoot, service, repair and maintain residential and commercial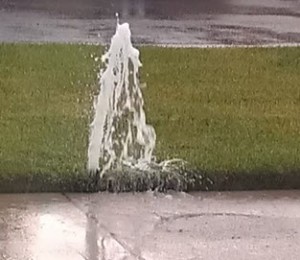 landscape irrigation systems, including drip irrigation. We change, add to, or upgrade your system to meet your current needs.
In spring we turn on your system and give it a 'check-up' in preparation for the warm season. Any deficiencies that we find will be brought to your attention, and approval, before we perform any additional services or repairs that will be an additional expense.
In late fall, we will winterize your system to clear the entire system of water in preparation for winter weather, and any potential for freeze damage.
Our service vehicle is stocked with all the latest testing equipment, pop up spray and rotor heads, irrigation controllers, wire tracking and valve locating devices, and specialty repair parts and materials.
OTHER AREAS OF COVERAGE
Alpharetta, Roswell, Brookhaven, Buckhead, Dunwoody, Sandy Springs, Johns Creek, Marietta, Smyrna, Conyers, Decatur, Tucker, Stone Mountain, Norcross, Duluth, Snellville, Lawrenceville, Covington and Vinings

Suwanee, Georgia: By the Numbers
Suwanee is a growing community with a prosperous future. The statistics about Suwanee make it clear that this is a town to watch. Just 27 miles from Atlanta and 16 miles east of Roswell, this town has a lot to offer for both commuters and those wanting to work in the small town. There are more people and jobs in Suwanee than ever before.
The population of people living within the Suwanee city limits is going up, and it is doing so very quickly. Suwanee's population increased 76% between 2000 and 2010, from 8,725 people to 15,355 people. As of 2013, the population of Suwannee was just over 17,000 people.
That doesn't sound like a lot until you consider that Suwanee only takes up about ten square miles. This gives the town a population density of nearly 900 people per mile.
Employment opportunities in Suwanee are increasing along with the population. The percentage of city residents who also worked within city limits increased from 14% in 2000 to 17% in 2009. The average household income in Suwanee is over $80,000 per year – not too shabby! The zip code is 30024
Suwanee is a great place to live if you have children. In 2012, Suwanee was ranked third in America on Kiplinger's list of of the best places to raise children. Family Circle also rated Suwanee among its top 10 places for families.
The demographics of the town bear this out. In 2010, nearly half of the households in Suwanee were families with children. Almost three-quarters of the households in the town are married couples living together with or without children. Most of the population of the town is under 45 years old.
The weather in Suwanee isn't too bad either. During the summer months, average temperatures during the day reach the high 80s (Fahrenheit). In the winter, the average low temperatures usually only just dip below freezing. Year-round, Suwanee gets about 4 to 5 inches of precipitation per month.
Suwanee also offers outdoor recreation and cultural venues. There is the 10-acre Town Center Park, home to an amphitheater which seats up to one thousand people for concerts and local theatre performances. For bikers, walkers, and joggers, there is the four mile Suwanee Creek Greenway, a hard-surface trail. Connected to the Greenway is the 85-acre Suwanee Creek Park, popular for family outings, picnics, and neighborhood soccer games.
For security, Suwanee has its own police force. It is a nationally accredited police force, meeting standards for excellence in law enforcement. Fire protection is offered through the Gwinnett County Fire Department, which manages Station Number 13 in Suwanee.
The statistics about Suwanee and its services paint a picture of a beautiful, growing small town. The population is growing quickly, as are the opportunities for those who live there. Bring your family to Suwanee and take advantage of this before someone else does. The weather is great, the job opportunities are clear to be seen, and the recreational activities rival those of a much larger town.

Monday-Saturday: 7:00am – 7:00pm
Sunday: by appointment