Irrigation repair in Stone Mountain GA. We service sprinkler systems in all of Atlanta, including Stone Mountain. If you need help with your sprinklers, Call Us Now!
Many homeowners have negative experiences with improperly designed systems in Stone Mountain, malfunctioning parts and poor after-sale service.
That's where Atlanta Sprinkler Repair comes in. We professionally repair sprinkler systems using high-quality parts and provide the best customer service in the irrigation business. Our philosophy is simple: to provide the best customer service and innovative, lasting solutions for your lawn and garden needs. You can rest assured knowing that we fully stand behind all our work. If your system requires any adjustments or you have any questions, we will attend to the situation as soon as possible. In short, we don't just repair irrigation systems – we offer peace of mind.
Why Choose Us for Stone Mountain Sprinkler Repair?
• Outstanding Customer Irrigation Service in Stone Mountain
From education to system repairs, Atlanta Sprinkler Repair provides prompt and reliable customer service. Unlike some contractors, we return all phone calls within one business day and are able to make most service visits quickly. We will take the time to thoroughly explain the operation of your irrigation system and show you how to program your system controller.
• Guaranteed Satisfaction
All irrigation repairs by Atlanta Sprinkler Repair are covered by a three-year comprehensive warranty, including labor and parts. Many parts are covered by an additional 2 year warranty (total of 5 yrs.). We guarantee that all areas of your lawn will be adequately watered after repairs or upgrades are done.
• Fully Insured
Unlike some irrigation contractors, Atlanta Sprinkler Repair carries 100% liability insurance for your peace of mind.
We encourage you to give us a call or contact us through our online form. We look forward to meeting with you and discussing the benefits irrigation system repairs by Atlanta Sprinkler Repair.
Irrigation Service and Repairs in Stone Mountain
We troubleshoot, service, repair and maintain residential and commercial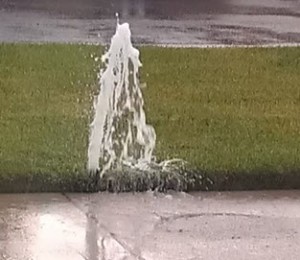 landscape irrigation systems, including drip irrigation. We change, add to, or upgrade your system to meet your current needs.
In spring we turn on your system and give it a 'check-up' in preparation for the warm season. Any deficiencies that we find will be brought to your attention, and approval, before we perform any additional services or repairs that will be an additional expense.
In late fall, we will winterize your system to clear the entire system of water in preparation for winter weather, and any potential for freeze damage.
Our service vehicle is stocked with all the latest testing equipment, pop up spray and rotor heads, irrigation controllers, wire tracking and valve locating devices, and specialty repair parts and materials.
OTHER AREAS OF COVERAGE
Alpharetta, Roswell, Brookhaven, Buckhead, Dunwoody, Sandy Springs, Johns Creek, Marietta, Smyrna, Conyers, Decatur, Tucker, Norcross, Suwanee, Duluth, Snellville, Lawrenceville, Covington and Vinings

Some Facts About Stone Mountain Georgia You May Not Know
Stone Mountain is a quartz dome and the location of the Stone Mountain Park in Georgia, United States. It is approximately 1,686 feet high and is 825 feet above the surrounding area. The zip cods are 30083, 30086, 30087 and 30088
This is an extremely famous site and is known for its bas-relief which is the largest one in the world. There, you will find an enormous carving of Stonewall Jackson, Jefferson Davis and Robert E. Lee who were three Confederate figures in the Civil War. The site of Stone Mountain was only purchased by the state of Georgia in 1958 and was previously owned by the Venerable Brothers. It was also the site of the second Ku Klux Klan founding in 1915. This mountain has a circumference of over 8 kilometers at its base but the top of the mountain can be reached by climbers through a walking trail along the west side of the mountain. Alternatively, you can reach the summit through the Skyride aerial tram. We will now take a look at some other interesting facts about Stone Mountain.
In Georgia literature, Stone Mountain was often touted as the biggest exposed piece of granite in the entire world. This was typically used as a form of advertisement by various granite companies and the admin of the park. The mountain itself is usually referred to as a pink granite dome but is actually made up of granodiorite, quartz monozite and granite.
If you are curious as to what lies at the top of the mountain, you will find a huge landscape that has lots of rocks and rock pools. You can also view the skyline of downtown Atlanta as well as Kennesaw Mountain and even the Appalachian Mountains on a clear day. The pools at the top of the mountain are formed by rainwater which gathers in the depressions and you can usually find a variety of clam shrimp as well as fairy shrimp. However, you will only find these shrimp during the rainy season.
Now, we will quickly look at some other facts about this mountain. The actual carving on the mountain is 90 feet tall and 11 feet deep. It is approximately 3 acres wide and is much larger than Mount Rushmore. According to various guesstimates, the mountain weighs more than 1 trillion pounds!
The Stone Mountain Park is home to a wide variety of fauna and flora. It has a wide variety of animals such as red tailed hawks, white tail deer, black rat snakes, eastern chipmunks, monarch butterflies, tiger swallowtails, wild turkeys, gray squirrels, gray foxes and much more. They also have a great variety of plants during the different seasons such as the prickly pear cactus, red moss, poolsprite, quillwort etc.
In closing, we have just taken a closer look at Stone Mountain and some interesting facts about it. There are many more things to learn about this mountain, its park and the famous carving, so make sure to keep researching and learning. It is definitely an amazing site and I deeply encourage you to visit it and see for yourself! For irrigation repair in Winter Springs click the link.

Monday-Saturday: 7:00am – 7:00pm
Sunday: by appointment